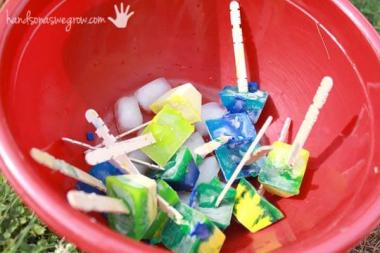 Easy DIY Frozen Paint
Instead of just coloring ice cubes, we froze entire cubes of paint.
I used Crayola washable paints it's our fave. Then I added just a dash of water to top it off.
I stuck with our favorite combination of colors: blue and yellow.
When I topped off the paint with water, the colors kind of combined in the ice cube tray.
But they were only green on top, underneath was still yellow or blue.
I stuck the paint in the freezer for about 20 minutes and then added the craft sticks.
We stuck them in the freezer in the morning, and they were ready at around 4 p.m.
Hot Sun and Frozen Paint
To start painting, you just pop them out of the container like you would a regular ice cube and let the heat of the sun do its work! The cube is your paintbrush!
Don't forget to slather sunscreen on the kids before heading out to do this art project!
Release Date:
Wednesday, September 22, 2021