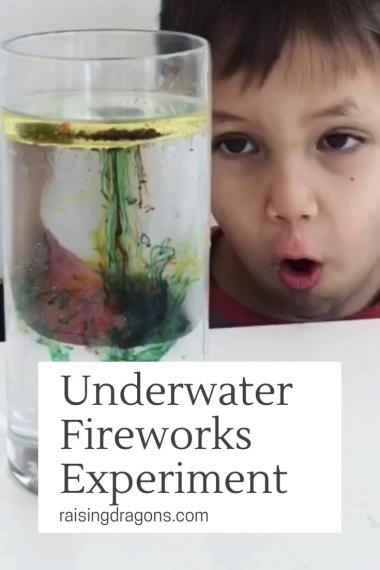 Underwater Fireworks Experiment ages 2+ This oil and water experiment is super easy to set up and the effects are so amazing!
MATERIALS NEEDED
Water
Vegetable Oil
Food Coloring
Shallow plate
Fork
WHAT TO DO:
1. Start by putting a few tablespoons of oil into a shallow plate and and several drops of food coloring in various colors.
2. Then gently mix the food coloring with a fork to break the drops up into smaller drops.
3. Carefully pour the oil into the water and watch the fireworks start.
WHY IT WORKS:
The food coloring doesn't mix with the oil so once the mixture is added to the water the food coloring makes its way through the oil and starts to mix with the water. Very cool effect!
Release Date:
Thursday, September 23, 2021