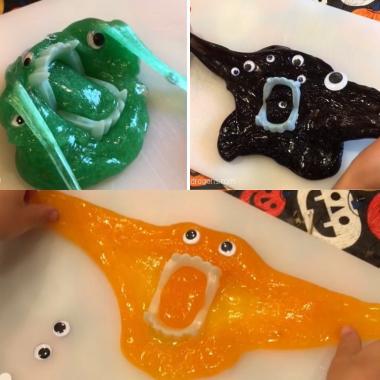 Monster Slime, ages 2+, Here's a spooky twist on our favorite slime recipe that's perfect for Halloween or a monster themed party! It's amazing how adding some googly eyes and vampire fangs can make slime so new and fun again! The kids literally played with this slime for hours creating all kinds of monsters!
MATERIALS NEEDED TO MAKE MONSTER SLIME (affiliate links):
* Googly eyes
* Vampire fangs
* Elmer's clear school glue
* Baking soda
* Food coloring
* Contact solution
* Oil (optional, can help with sticking)
* Bowl
* Spoon or spatula to mix (we prefer to use disposable silverware)
HOW TO MAKE MONSTER SLIME:
1. Start by mixing 1/2 cup of Elmer's clear school glue, 1/2 tsp of baking soda and a few drops of food coloring. We used clear glue so the monsters were slightly transparent and extra creepy!
2. Mix the above ingredients until fully mixed.
3. Add 1 tablespoon of contact solution and mix. Keep adding contact solution until the slime stops sticking to the bowl and can be picked up without sticking to hands. We typically end up using about 2 tablespoons of contact solution by the time it's complete.
4. If you find the slime still sticking to hands, add a few drops of oil (any kind will work) and this will help keep the slime from sticking.
4. Add some googly eyes and vampire fangs and start creating your monsters!
Tip: If your slime started to get too solid or dry out, try adding a bit of water and kneading it into the slime to get it more stretchy again.
Be sure to store your slime in sealable containers to keep it from drying out. We keep them in sealable plastic bags and that works great!
Release Date:
Friday, September 24, 2021