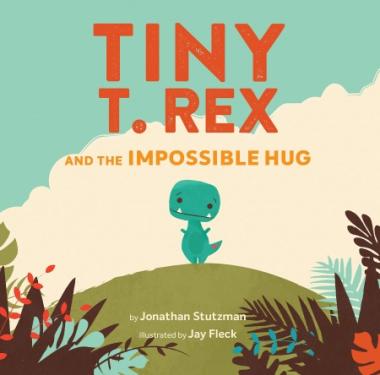 Tiny T. Rex has a HUGE problem. His friend Pointy needs cheering up and only a hug will do. But with his short stature and teeny T. Rex arms, is a hug impossible? Not if Tiny has anything to say about it! Join this plucky little dinosaur in his very first adventure, Tiny T. Rex and the Impossible Hug—a warm and funny tale that proves the best hugs come from the biggest hearts.
We are pleased and excited to announce that the Author Jonathan Stutzman and his Illustrator Jay Fleck produced a video just for the Day of Play Festival! Jonathan reads his story and Jay shows you how to Draw Tiny T Rex!
As an additional treat, we are pleased to present three other book readings, in multiple languages, by our local community leaders: Patty Eppinger- English, Hilda Ramirez - Spanish and Anh Sawyer - Vietnamese.
After you listen to the book download the Tiny T puppet below. How many people or things can your Tiny T hug?
Try your hand on the word search related to the Tiny T Rex book (below)!
Release Date:
Saturday, September 18, 2021