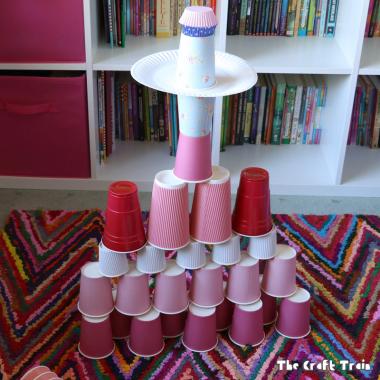 Here's a simple idea for an DIY paper cup and plate construction kit. It's so versatile and kids will love using it to build towers, castles, cities and whatever else their imaginations can come up with.
Kids have the BEST ideas, don't you think? I once put together a special craft box for my girls. We called it the no rules craft box. It was in the style of the popular inventors boxes I'd seen on Pinterest, and it was secretly aimed at giving them their own creative materials to go wild with so they might stop stealing mine. It didn't really work as planned, but then sometimes when things don't go to plan they turn out even better.
In their craft box, which was a large plastic tub, I put a bunch of stuff I didn't really need anymore. There were paper plates left over from Christmas and lots of paper cups which I'd purchased for craft projects in all different sizes. There were also some pretty floral paper bowls and cups I'd found on sale for only $1 each and but never used, plus paper bags, cake pop sticks (from a party a few years ago) and a few other bits and pieces.
I'd imagined they'd design some cute little paper cup animals or something (that's probably what I would do), but instead they used them in play. Once they made an elaborate sweet shop for pretend play. Another time miss K made a paper plate house, and then created a (working!) garage to go with it.
Mostly though they used the box of things as a construction set and built tall towers and castles with them. Sometimes they would add cardboard tubes and egg cartons and design huge cities which encompassed the entire living room. Sometimes they'd add flashing Christmas ornaments and other things that light up, and then switch out the lights.
They made nothing I imagined, but they made so much more.
You will need:
These are the things we used in our construction set, but don't let that limit you. You can add to it with different things, and you don't need to use everything we used either.
• paper cups in different sizes. We have the espresso size, regular size in different colors and textures, medium size and tall size. Having different colors of paper cups encourages patterning as well as building.
• paper plates
• paper bowls
• cupcake liners
How to:
Place the items in a pile on the floor and build away!
Release Date:
Friday, September 24, 2021